Welcome to Philippine Diving

This page last updated... Saturday, April 5, 2008 17:44
This site is provided for those looking for help and guidance on where to stay, and who to dive with, in Coron and the surrounding area.
The service is operated by two British guys, one of whom was the manager of the former Dive Right dive shop in Coron. We provide you with the best advice regarding the most appropriate and available dive shops, accommodation, resorts, and travel arrangements, to suit both your tastes, your pocket, and the type of diving you wish to undertake.
If you would like us to book and arrange your vacation we would be only too happy to oblige.
We also offer invaluable and detailed advice on a wide variety of issues, from diving practises, to currency conversion, health matters, local customs, night life, over-night stops in Manila, and can also provide assistance with booking multi-centre dive tours throughout the Philippine Islands.
We have had personal contact with everybody in Coron for over six years and are confident that we can provide you with the best of Coron, with the guarantee that a booking with us will cost no more than if you booked direct with your chosen dive operator, accommodation or resort.
We can also arrange your diver education, either via our own PADI Instructor, or by placing you with local tech instructors to suit your needs.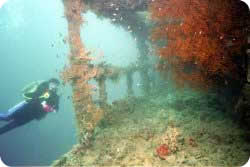 We take the guess-work out of booking your holiday, and the time-wasting out of surfing the web looking for people you don't know and, maybe, can't trust.
Take one look at the detailed and meticulous information and links within this site and you know you are talking to the right people.
We sincerely hope you derive as much pleasure from surfing this site as we had in putting it together for you. There is a wealth of information just a 'click' away via the menu on the left-hand side. Go take a look. There's something for everybody. If you've got any questions you can't find an answer to, or would like to make a booking, then the 'contact' page is the place for you.
This is the start of the holiday of a life-time.......

ENJOY!!!