KokosNuss Garden Resort
Situated at the top of a hill, approximately one kilometre from the centre of Coron town. This resort is owned and run by a German father and son partnership: Rudolf and Jorge Weih.
From its inception in 1992 the resort has grown from four cottages to its present day 24 cottages and is set in a tropical garden with garden chairs and hammocks, and a delightful garden restaurant where you can enjoy fresh seafood and homemade specials in Asian and European style.
All the cottages and bungalows are constructed in the local, traditional nipa hut style and are made from, predominantly, bamboo and nipa, which is a derivative of the coconut tree. This construction provides both a cool and comfortable interior blended with a traditional exterior.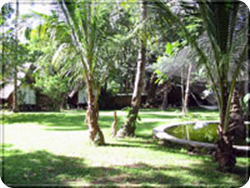 Deluxe bungalows have en-suite bathrooms and showers, marble flooring and air-conditioning and ceiling fan and are priced at $32.00 per night per room.
A large cottage with private tiled bathroom, hot + cold shower, toilet, ceiling fan, private terrace, up to three beds are priced at $26.00 per night per room.
A small "nipa hut" with common toilet & shower is priced at $12.00.
The resort does not have it's own dive shop but would place you with one of the other established dive operators in town, probably Discovery Divers.
Be warned, this, like all the other resorts in Coron apart from Dive Link, has no swimming pool. It also has no beach. If you would like to go Island hopping to the local beaches see boat chartering to hire a local banka boat.
These are the folks to arrange your trip to Calauit Wildlife Sanctuary, which came into being back in 1976 under the guidance of then President Marcos. Today it is home to giraffes, zebras and impalas, together with rare animals like bear cats, Calamian deer, mouse deer and Palawan peacocks, which are endemic to Palawan.
---