Accommodation in Manila
If you have to stay overnight in Manila before going to Coron or when coming back from Coron you can lodge in the following hotels and pensions. All of these facilities have been used by Dive Right's divers.
We have no financial interest in where you stay, so you can choose the level and price of accommodation that appeals to you.
Recommended 5 Star hotels are mainly in the Makati district and links are provided here for your convenience. Most of these hotels run very good offer rates so we suggest you go shopping and see what kind of a deal you can come up with. All these hotels operate airport pick-up services which we recommend you take advantage of.
Other 5 Star and superior hotels in the Ermita and Roxas Boulevard areas are listed below
All of the following facilities are in the Ermita area and are within walking distance of each other, Filipino Travel Center, Edzen Money Changer, internet cafes, restaurants and fast food outlets, and the Robinson's Shopping Mall. This area is well served by independent taxi operators.
Swagman Hotel Manila
411 A. Flores St., Ermita, Manila 1000
Telephones: (63-2) 523-8541 to 45 Fax: (63-2) 522-3663 / 525-3382
Ermita area facing the park opposite the US Embassy.
bookings@swaggy.com
Standard Room: Php 1,600.00 (double bed, air-conditioning, cable TV)
Deluxe Room: Php 2,275.00 (double bed, air-conditioning, cable TV, refrigerator)

The Executive Plaza Hotel
1630 A. Mabini Street, Malate, Manila, Philippines
Standard double room Php1,800.00
Triple room Php2,400.00
Iseya Hotel
1241 M.H. del Pilar, Ermita
Manila, Philippines
Tel.: (63) 02-5238166
Fax: (63) 02-5262778
Ermita area, corner of Del Pilar and Padre Faura
Standard Room: Php 1,300 (double bed, a/c, cable TV)
Family Room: Php 1,600 (double bed and single bed, a/c, cable TV)
The open air bar on the 6th floor has a regular crowd of afternoon drinkers who can supply both local knowledge and local colour.
Malate Pension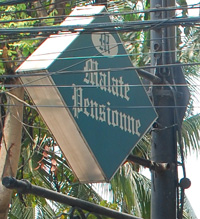 Malate area at 1771 M. Adriatico Street
63-2-523-8304/05/06
FAX: 63-2-522-2389

Dormitory: a/c, 6 beds, common bath PHP 275
Dormitory: a/c, 8 beds, private bath PHP 300
Super Economy: Fan, single bed w/pullout, common bath PHP 450
Economy Room: Fan, double or twin beds, common bath PHP 550
Economy Triple: Fan, double deck and single bed, common bath PHP 800
Standard Room: Fan, telephone, private bath PHP 850
De Luxe Room: Double bed, a/c, cable TV, telephone PHP 1,050
Executive Room: Twin beds, a/c, cable TV, telephone PHP 1,300
Family Room: Queen and single bed, a/c, cable TV, telephone, refrigerator PHP 1,500
Contact them online Malate Pension for offers and booking.
Mabini Pension
Ermita area at 1337 A. Mabini Street
63-2-523-3930 or 63-2-524-5404
FAX: 63-2-523-4213
Mabini Pension has a variety of fan and air-conditioned rooms with common and private bathrooms.
Pension Natividad
Malate area at 1690 M.H. del Pilar one block off of Roxas Blvd and in the second block south (towards the airport) from Pedro Gil street.
63-2-521-0524, 63-2-526-0992, 63-2-524-0811
FAX: 63-2-522-3759
Dormitory bed with use of an excellent common bathroom PHP 300
Fan room with common bath PHP 550
Fan room with private bath PHP 650
Double room with two twin beds, a/c, private bath PHP 900

Travel Agents
If you need tickets to Coron or to any other tourist destination then we would advise you there are no travel agents, shipping lines, nor airlines, in the whole country, who will advertise the price they will ask you to pay. Many times they will advertise trips as low as Php 288.00 but charge you Php 2,500.00 for the same trip. We're not saying they are dishonest, merely that they will not tell you the whole truth. For this reason there is not one company we can truthfully recommend. Sorry, but it's true:)
---
If you want to pass the time in Manila you can go the the Robinson's Shopping Mall on Pedro Gil Avenue. This mall is now being extended and the choices are terrific. There are a variety of restaurants, some internet cafes, and stores for every need. This is your last chance before you head out for the provinces.
---
Normal pick-pocket precautions apply everywhere!
Walk away from any moneychangers who approach you on the sidewalk!
Don't talk to anyone who approaches you on the street or in a store unless they work there and are in uniform or are wearing an ID badge!
Don't walk around at night by yourself!
Don't go anywhere with ANYONE you meet on the street!
If it sounds too good to be true, it is! Walk Away!