Sea Dive Resort
This page last updated Saturday, April 5, 2008 17:43
Situated in the centre of Coron town and built over the water, this resort is owned and run by an American father and son partnership: Jim and Chris Goll. From small beginnings this resort has expanded to become one of the most successful resorts in the area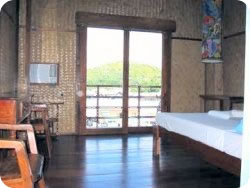 They have very large deluxe air con rooms on the second and third floors, complete with en suite bathrooms and refrigerators, at only Php 960.00 per room per night inclusive of VAT.

Standard air con rooms are available on the first(ground) floor at Php 680.00 per room per night inclusive of VAT.

And fan rooms are available on the first(ground) floor at Php 450.00 inclusive of VAT and on the second floor at Php 560.00 per room per night inclusive of VAT.
The resort boasts the largest restaurant in town and caters for 'Western' as well as local cuisine. They also have wi-fi available in the restaurant so you can keep up with pressing matters from home on your laptops. The resort, as opposed to the dive shop, is staffed by as cheerful a bunch of happy, smiling Filipinos as it could ever be your pleasure to meet.
Sea Dive also has a very comfortable 'Helldiver' bar, complete with satellite TV, and is named after the aircraft type that sank the famous Coron wrecks back in 1944.An ideal spot for enjoying those apres dive drinks and catching up on the latest news from 'reality'!
The resort has it's own dive shop and the prices represent a good average price throughout the Philippines.The normal format is a two-dive day, usually at the wrecks, which will cost Php 2,800.00 inclusive of VAT and includes lunch, cooked onboard, and a complimentary drink, or two!
All the regular PADI courses are available and are priced as follows
Open Water Php18,350.00
Advanced Open Water Php14,850.00
Wreck Diver Specialty Php13,450.00
Rescue Diver Php16,250.00
Divemaster Php42,600.00
Which is a bit above the average price for the Philippines and amongst the most expensive in Coron however, all dive equipment is included in the price and it is replaced on a regular basis. The instructors are usually first class ex-pats so you will be well looked after whilst enjoying a thorough education in a safe environment.
Manifolded twin sets with DIN fittings are available, as are a limited quantity of DIN single cylinders. They all need booking in advance and, even if you book them, I would also still recommend bringing A clamps, just in case:)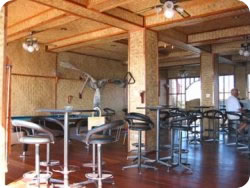 As a guide comparison, the cost of two divers sharing a deluxe air-con room in this resort for 7 nights and making two air dives daily for six days, plus an allowance of $280.00 for food, as the others resorts are on a full-board basis, would be $1,220.00, or $610.00 per diver. This is the only resort charging on a room-rate basis so there is no supplement for single occupancy. You will also note that full dive kit is included in the daily diving price, which, again, is unique in Coron! A fantastic value for money resort!
Please be aware, this resort has no swimming pool. It also has no beach. This is a dive dedicated resort but if you want to go Island hopping to the local beaches see boat chartering to hire a local banka boat.