Diving In Coron Bay
The Philippines boasts over 7,000 islands, of which Coron is the one blessed with a concentration of wrecks to rank it as one of the finest wreck diving locations in the world.
The wrecks are there as a result of an air attack by fighters and bombers, from a distant US Navy aircraft carrier, back on September 24th 1944. There was a fleet of 24 Japanese supply ships at anchor around Coron and you can read a detailed historical account via this link. It makes interesting reading and augments the enjoyment when you are in the water.
Some of the wrecks are huge, up to 160 metres in length. All the big wrecks are either upright or on their sides, none are upside down.
Despite being salvaged by the US Navy back in the early 1960's all the wrecks are remarkably intact structurally and some stunning penetrations and swim throughs are possible. Some wrecks have huge blast holes, allowing masses of natural light to penetrate deep into the wrecks, making for a magical experience for the novice wrecker!
The outside of the wrecks have, after sixty years in the water, become some of the finest artificial reefs to be found and are laden with both hard and soft corals and an abundance of fish life.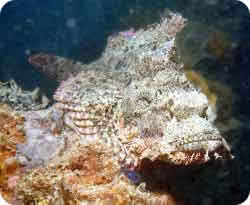 The decks of the wrecks are in depths ranging from 10 to 30 metres and the seabed at the deepest wreck, the Irako, is only 43 metres. This makes these wrecks accessible to a wide variety of divers. Everybody can enjoy these wrecks, from Open Water Divers right through to experienced wreckers.
The Coron wrecks are one of the best kept diving secrets in the World and, as a result, you will be unlucky to find another dive boat at any of the wrecks you visit. You usually have the wreck to yourselves!
Although Coron is justly famous for its wreck diving it is now fostering some excellent reef diving too. The implementation of fish sanctuaries, together with education programmes aimed at curtailing the use of dynamite and cyanide when fishing, is having a marked effect and the coral is re-establishing itself at a remarkable rate. In fact, much faster than the scientists would have us believe possible! With this in mind Seven Islands, near to Coron town, and Calambuyan Island, on the way up to Concepcion, are a couple of great sites that are well worth a visit.
The variety of diving in this area is enormous and ranges from 11 World War Two Japanese wrecks at depths from 12 to 43 meters, caves, a geothermal hot lake, coral reefs and walls. Diver training is available from Discover Scuba Diving through Advanced Nitrox and Wreck penetration to Divemaster, together with comprehensive Technical Diving instruction, but excluding Tri-Mix.
Learn to dive in the warm, calm waters of Coron bay.
Wreck diving in Coron is a full day trip for two or three wreck dives. You will be aboard a 'banka', traditional outrigger style dive boat, all day and the normal departure time is 09:00am.
Lunch is served and prepared on-board by extremely friendly and professional crews by most resorts.
You can choose to dive with a buddy or be guided. You determine your NDL and watch your air supply. We don't limit the time of your dives.
It is a one hour/+ boat ride to the first dive site, depending on which boat you are sailing. The usual procedure is to dive a wreck and then go off to a beach or shallow wreck for two hours of lunch, snorkeling, and swimming. A second wreck dive is followed by an hour, to an hour and a half, cruise back to Coron town. The boats usually return between 4:00 and 6:00pm, depending on whether two or three dives are made, and the location of the last dive.
Dive guides accompany groups of four to six divers if needed. Groups are divided according to experience levels. Novices never have to chase advanced divers into small dark holes.
Two experienced advanced open water divers can buddy up and plan their own dive after consulting with the dive leader.
Two wreck diver specialty certified divers can plan their own penetration with proper equipment.
Limited interior access is allowed for advanced or experienced divers, who stay in the light zone within the wreck. The PADI Wreck Diver Specialty class is available for those divers who have completed Advanced Open Water and who desire to learn to make their own penetration.
There is a recompression chamber in Coron but we have no wish to use it. We are very careful with our dive profiles and dive planning to avoid decompression sickness problems.
The boats we use have heads(bathrooms), drinks, water and covered areas for shade but please ensure you bring your own sun block and a hat.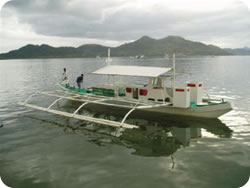 The 'Look Sea' diving banka, available for charter complete with experienced crew. Contact us for details!